Guidelines on The Practice of Magic According to The Islamic Perspective
Garis Panduan Mengenai Amalan Sihir Menurut Perspektif Islam
Muna bin Hamzan

Pusat Pengajian Syariah, Fakulti Pengajian Kontemporari Islam, Universiti Sultan Zainal Abidin (UniSZA) Terengganu, Malaysia
Keywords:
Sihir, Pengamal Sihir, Sihir dalam Islam, Magic, Magic Practitioners
Abstract
This study aims to provide general guidance to religious authorities and the prosecution on the conduct of magic in society for the purpose of the process of enforcement and prosecution of magic practitioners. Apart from that, it is also an explanation and exposure to the Muslim community about the dangers of believing in the practice of magic and its use that can lead to the deviation of the beliefs of a Muslim. This study is based on the Results of the Muzakarah of the Fatwa Committee of the National Council for Islamic Religious Affairs Malaysia: Law on the belief in the practice of magic and its use according to Islamic perspective has been gazetted as a Fatwa in several State Fatwa Departments in Malaysia. Violation of the fatwa decision that has been gazetted as an offense because it is considered an insult to Islam and the Religious Authority. The objective of this study will be to discuss the characteristics of superstitious practices, forms of magic practices, the characteristics of magic practitioners, in brief, the role of the authorities in combating magic practices. The methodology used in this study is a library study that is the analysis of documents such as books and articles. It is hoped that these guidelines can also provide understanding and explanation to Muslims in this country on the characteristics of the practice of magic, superstition, and magic according to the Islamic perspective with the hope that the Muslim community stays away from all practices that can threaten the faith, threaten the lives of others and affect harmony society if there is no collective effort from all authorities to curb it.
Abstrak
Kajian ini bertujuan untuk memberi panduan umum kepada pihak penguatkuasa agama dan pihak pendakwaan mengenai pelakuan sihir dalam masyarakat bagi tujuan proses penguatkuasaan dan pendakwaan terhadap pengamal sihir. Selain itu, ianya juga sebagai penjelasan dan pendedahan kepada masyarakat Islam mengenai bahaya kepercayaan terhadap amalan sihir serta penggunaannya yang boleh membawa kepada penyelewangan aqidah seseorang muslim. Kajian ini adalah bertitik tolak daripada Keputusan Muzakarah Jawatankuasa Fatwa Majlis Kebangsaan Bagi Hal Ehwal Ugama Islam Malaysia: Hukum mengenai kepercayaan amalan sihir dan penggunaannya menurut pespektif Islam ini telah diwartakan sebagai Fatwa di beberapa Jabatan Fatwa Negeri di Malaysia. Pelanggaran terhadap keputusan Fatwa yang telah diwartakan merupakan suatu kesalahan kerana ia dianggap sebagai menghina Agama Islam dan Pihak Berkuasa Agama. Objektif kajian ini akan membincangkan ciri-ciri amalan khurafat, bentuk-bentuk amalan sihir, ciri-ciri pengamal sihir secara ringkas, peranan pihak berkuasa membanteras amalan sihir. Metodologi yang digunakan dalam kajian ini ialah kajian kepustakaan iaitu analisis dokumen seperti buku-buku dan artikel-artikel. Adalah diharapkan garis panduan ini juga dapat memberi kefahaman dan penjelasan kepada umat Islam di negara ini mengenai ciri-ciri amalan sihir, khurafat dan tangkal menurut perspektif Islam dengan harapan supaya masyarakat Islam menjauhi segala amalan yang boleh menggugat akidah, mengancam nyawa orang lain serta menjejaskan keharmonian masyarakat sekiranya tiada usaha secara kolektif dari semua pihak yang berautoriti untuk membendungnya.
Downloads
Download data is not yet available.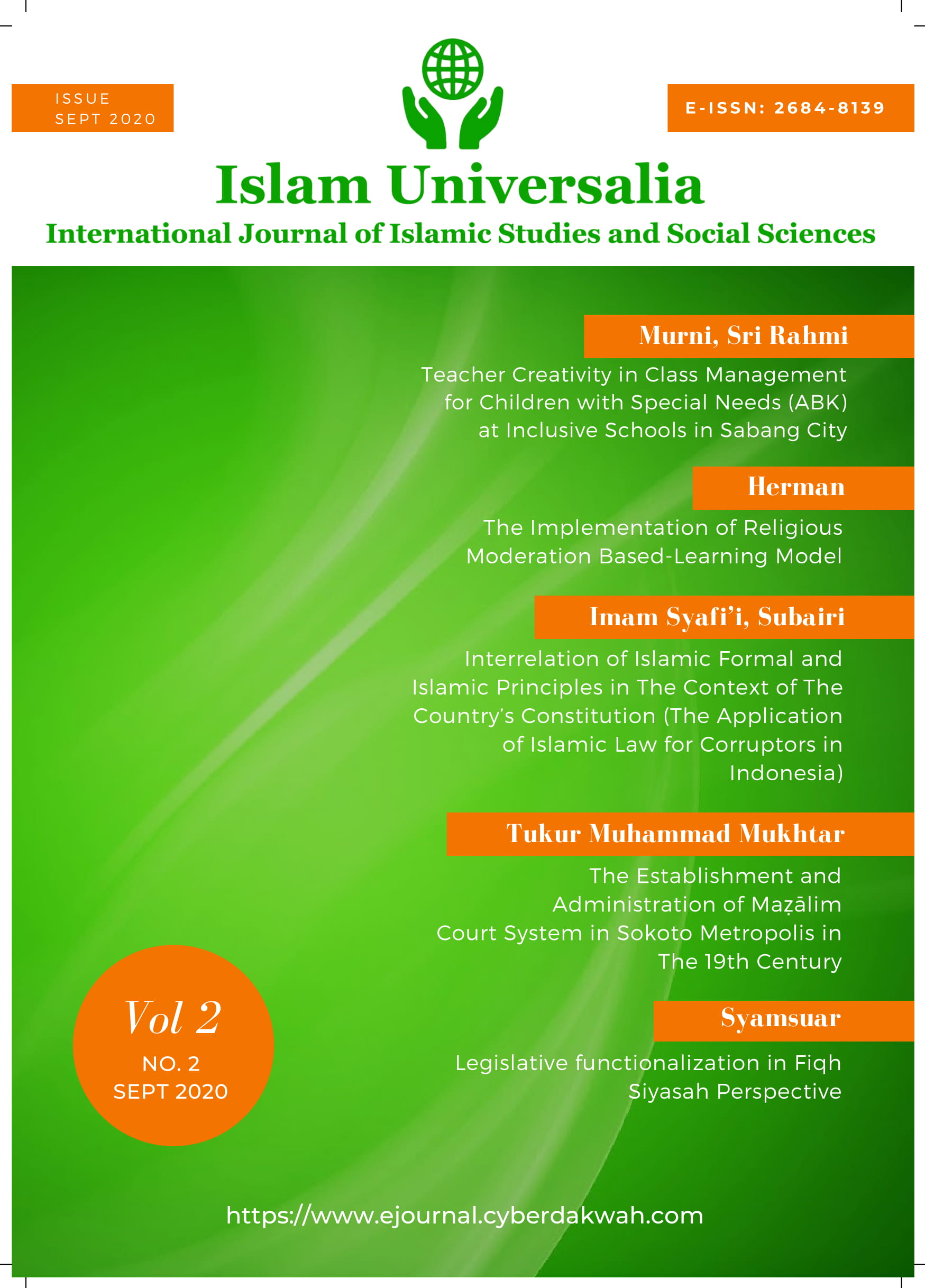 How to Cite
bin Hamzan, Muna. 2019. "Guidelines on The Practice of Magic According to The Islamic Perspective". Islam Universalia 2 (2), 391 -. https://ejournal.cyberdakwah.com/index.php/Islam-Universalia/article/view/170.
Copyright (c) 2020 Muna bin Hamzan
This work is licensed under a Creative Commons Attribution-ShareAlike 4.0 International License.