The Implementation of Religious Moderation Based-Learning Model
Implementasi Model Pembelajaran Berbasis Moderasi Beragama
Herman

Sekolah Tinggi Agama Islam Negeri (STAIN) Teungku Dirundeng Meulaboh
Keywords:
Model, Pembelajaran, Moderasi Beragama
Abstract
This article is aimed to describe the implementation of religious moderation-based learning model in an attempt to build and cultivate students character. In constructing the learning proses, teachers were lacking of softskill which implicated to students' character that tend to be radical, extreme, and exclusive in facing the social reality. This study employed a library research method within a qualitative approach. Data were collected by reading numerous relevant literature associated with the implementation of religious moderation-based learning model. The result of study indicated that the implementation of religious moderation-based learning models can be performed in a number of ways, such as the following: 1) building and nurturing the universality of religious moderation, 2) building and internalizing the different values as sunnatullah (natural law), 3) constructing the spirituality and rationality in line with social reality, 4) building and empowering the attitudes of rahmatan lil 'alamin in social reality, and 5) conducting preventive, corrective, and curative actions toward radicalism, extremism, and exclusivism. The result of this study can be recommended to the headmasters and teachers so that they can implement this learning model responsibly, fully discipline, and accountably. Also, they can cooperate with other stakeholders for the good implementation of this religious moderation-based learning model. 
Abstrak:
Artikel ini bertujuan mendeskripsikan implementasi model pembelajaran berbasis moderasi beragama dalam upaya membangun dan membina kharakter siswa. Guru dalam mengkonstruksikan proses pembelajaran sangat lemah soft skill yang berimbas siswa cenderung radikal, ekstrem, dan eksklusif pada saat berhadapan dengan realitas sosial. Penelitian ini menggunakan metode library research dengan pendekatan kualitatif dan pengumpulan data dengan cara membaca berbagai literatur untuk mendeskripsikan model pembelajaran berbasis moderasi beragama. Hasil kajian model pembelajaran berbasis moderasi beragama dapat diimpletasiskan dengan cara-cara sebagai berikut: 1) membangun, dan mengembangkan ide universalisme moderasi beragama, 2) membangun, dan menginternalisasikan nilai perbedaan sebagai sunnatullah,  3) mengkonstruksikan spiritualitas, dan rasionalitas dengan realitas sosial, 4) membangun, dan membina sikap rahmatan lil 'alamin dalam realitas sosial, dan 5) melakukan tindakan preventif, korektif, dan kuratif terhadap sikap radikal, ekstrim, dan eksklusif.  Hasil kajian ini dapat direkomendasikan kepada kepala madrasah, dan guru supaya dapat mengimplementasikan model pembelajaran berbasis moderasi dengan penuh rasa tanggung jawab, disipin, dan amanah, serta  dapat bekerja sama dengan stakeholder lain demi terlaksana model pembelajaran berbasis moderasi beragama.
Downloads
Download data is not yet available.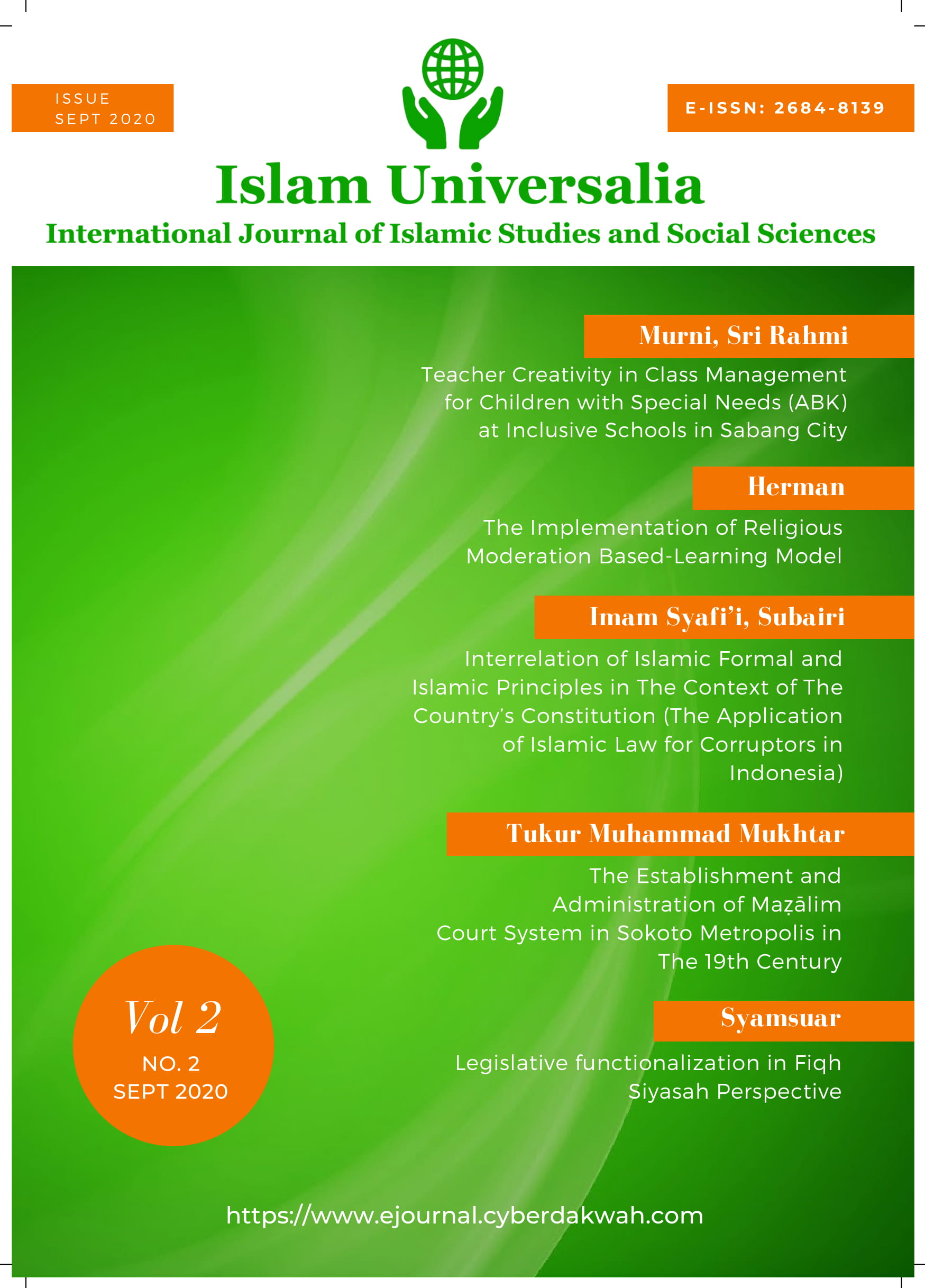 How to Cite
Herman. 2020. "The Implementation of Religious Moderation Based-Learning Model". Islam Universalia 2 (2), 257 -. https://ejournal.cyberdakwah.com/index.php/Islam-Universalia/article/view/163.
Copyright (c) 2020 Herman
This work is licensed under a Creative Commons Attribution-ShareAlike 4.0 International License.